Product Roadmap for Lead-free and RoHS-compliant Electronic Devices: Meeting regulatory, technological, and business challenges for environmental objectives
Allegro Statement on Meeting Environmental Goals
Allegro is committed to meeting the requirements of our customers for products that meet environmental compliance standards such as lead (Pb) free, the European Union RoHS Directive, and other standards as they evolve in the marketplace. Our commitment to protect and preserve our natural environment has resulted in establishing a capability to supply lead-free plated products in 2000, and a continuing effort to lead the industry in developing new approaches and capabilities for adapting to meet these standards.
To accomplish these complex tasks, Allegro has formed a team drawn from throughout the organization. The task of the team is to understand and research the regulatory goals and requirements, the state of the art in lead-free electronics production, and the best methods for implementation in a timely and effective manner. A procedure for identifying and responding to customer requests for lead-free devices has been instituted.
Allegro is also diligently analyzing our products and processes, pursuing a course that allows us to respond to customer requirements for both traditional and lead-free devices while industries and technologies transition to accomplish these new standards. Our conversion is proceeding in a phased manner by package type, device type, and customer demand. This phased approach allows us to meet the currently higher demand for well-established traditional technologies, while servicing the demands for lead-free products as they grow.
In compliance with these emerging demands, Allegro has developed a mixed capability of internal resources and external partnering with key suppliers who have demonstrated the ability to provide materials and components which meet standards on the substances being regulated. Both sample quantities and production volumes are being handled by this method, supporting customer design and manufacturing lead times.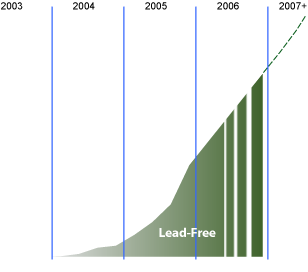 Allegro lead-free products have been sold since the year 2000 into a variety of markets and applications. This long-term investment in the development and dissemination of green technologies is now beginning to return benefits to Allegro as the RoHS Directive stimulates demand in consuming nations and companies. Allegro has seen a rapid increase in inquiries about green products in response to RoHS. The green market is expected to continue to grow rapidly both in absolute terms, and as a proportion of the overall electronics market.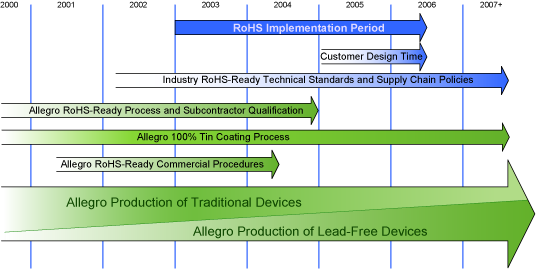 Allegro has been an industry leader in the worldwide development and implementation of process improvements necessary to support lead-free electronic components and assemblies. Delivering production quantities of lead-free devices since the year 2000, Allegro has extensive experience with processes and procedures for reliably delivering lead-free devices. The public discussion of the new regulations has helped Allegro to convey the importance of these changes to its partners and to work with them in developing greener products. These critical enabling technologies will continue to evolve as the many industries in the supply chain move beyond the RoHS implementation period.
Allegro MicroSystems has established itself as a leader in the development and adoption of lead-free and other green technologies. In addition, the well-established commercial practices of Allegro are fully capable of adapting to detailed packaging and marking requirements.
Allegro Expectations for Providing Lead-free Plated Products:

• 100% matte-tin versions of high-volume products will be developed on a case-by-case basis; specific device and package combinations may not be available for immediate delivery



• Allegro will respond to customer requests for lead-free versions; however, for specific device and package combinations, Allegro may at its discretion determine not to create a lead-free version

• Allegro will balance production of lead-free versions between internal facilities and qualified subcontractors

• Due to the extremely small size of some Allegro products, in some instances legible markings for lead-free identification may not be feasible

• Depending on individual device types and process requirements, special packaging and handling may be required

• Use of green molding compounds may be required

• Due to the greater heat transfer required for lead-free soldering, msl derating will be typical for lead-free versions

• Due to increased processing costs, price adders may be applicable for lead-free versions of products
Allegro believes that it is well-positioned to meet green regulatory requirements as they evolve and looks forward to supporting the requirements of all of our customers for high-quality, reliable electronic devices that are sensitive to our natural environment.
(Reference Pub26015)