Allegro MicroSystems A²-SIL™

標準化作業を行う国際機関 (ISO) は公道上の車両内の電気/電子 (E/E) システムのアプリケーション分野に特定された要求に合致する ISO 26262: Road Vehicles – Functional Safety と呼ばれる安全規格を2011年にリリースしました。世界中の車メーカーは、この最先端の標準規格に基づいて開発された、電子化した安全装置と実装部品を必要としはじめました。
技術的に複雑な電子化した車載搭載の安全装置の使用が増加した事により、これらのシステムの安全で信頼性向上の為の設計、製造、検証と車内のほかの電子装置との統合を一貫して行う事が非常に重要なものとなっています。
Allegro MicroSystems, LLC は安全に対する主導を大いにサポートする、車載向け集積回路の大手の供給会社です。 アクティブFunctional Safety (FuSa) カルチャーを造り出す事はAllegro内で重要な会社の目標となっており、従業員は車市場に対し私達のコミットメントの一部分としての安全性のトレーニングを幾度となく積んで来ております。
* この安全規格は3,500kgまでの標準的な乗用車の、特に安全に関連したE/E システムに適用されます。
Allegro MicroSystems A²-SIL™ Products
アプリケーション
製品のタイプ
製品番号
ASILのレベルl

Power Steering Systems
Hall-Effect Switch

A1130-1-2

ASIL-B

Hall-Effect Latch/Switch
A1205
QM
Hall-Effect Latch

A1220-1-2-3
QM
Hall-Effect Switch

A1250
QM
Dual Hall-Effect Latch

A1233

QM
Dual Hall-Effect Latch

APS12625
ASIL-A
Dual Hall-Effect Latch

APS12626

ASIL-A

Angle Position Sensor

A1333

ASIL-B
ASIL-D

Angle Position Sensor
A1339
ASIL-B
ASIL-D

Angle Position Sensor
A1334
QM
Angle Position Sensor

A1335

QM
Angle Position Sensor
A1337

QM
Angle Position Sensor
A1338

QM
Linear Position Sensor
A1341
QM
Linear Position Sensor
A1343
QM
DC Gate Driver
A3921
QM
Full-Bridge MOSFET Driver
A3922

ASIL-D

Full-Bridge MOSFET Driver

A3924

ASIL-D*

DC Gate Driver
A3941
QM
BLDC Gate Driver - Digital
A4910
QM
BLDC Gate Driver

A4911
ASIL-D

BLDC Gate Driver

A4913
ASIL-D

BLDC Gate Driver

A4916
ASIL-D

BLDC Gate Driver - Power
A4933
QM
BLDC Gate Driver - Power
A4935
QM
Phase Disconnect Switch
A6861
QM
Half-Bridge MOSFET Driver

A4926
ASIL-B

Half-Bridge MOSFET Driver

A4927
ASIL-B
Phase Disconnect Switch

A6862

ASIL-B*

Multi-Output Regulator

ARG81400
ASIL-D
Multi-Output Regulator

ARG81401
QM
Multi-Output Regulator

ARG82800
ASIL-D
Multi-Output Regulator

A4408
QM
Multi-Output Regulator

A4409
QM
Multi-Output Regulator

A4411

QM
Multi-Output Regulator

A4412
ASIL-D
Multi-Output Regulator

A4413
QM
Anti-Lock Brake/Stability Control
Hall-Effect Switch

A1130-1-2

ASIL-B

Hall-Effect Latch/Switch
A1205
QM
Hall-Effect Latch

A1220-1-2-3
QM
Hall-Effect Switch

A1250
QM
Half-Bridge MOSFET Driver

A4926

ASIL-B

Half-Bridge MOSFET Driver

A4927

ASIL-B

Angle Position Sensor

A1334

QM
Angle Position Sensor

A1335

QM
Angle Position Sensor
A1338

QM
Linear Position Sensor
A1341
QM
Linear Position Sensor
A1343
QM
DC Gate Driver
A3921
QM
Full-Bridge MOSFET Driver
A3922

ASIL-D

Full-Bridge MOSFET Driver

A3924

ASIL-D*

DC Gate Driver
A3941
QM
BLDC Gate Driver - Digital
A4910
QM
BLDC Gate Driver - Power
A4933
QM
BLDC Gate Driver - Power
A4935
QM
Multi-Output Regulator

ARG81400
ASIL-D
Multi-Output Regulator

ARG81401
QM
Multi-Output Regulator

ARG82800
ASIL-D
Multi-Output Regulator

A4408
QM
Multi-Output Regulator

A4409
QM
Multi-Output Regulator
A4411
QM
Multi-Output Regulator

A4412
ASIL-D
Multi-Output Regulator

A4413
QM

Transmission
Hall-Effect Switch
A1130-1-2

ASIL-B

Hall-Effect Latch/Switch
A1205
QM
Hall-Effect Latch

A1220-1-2-3
QM
Hall-Effect Switch

A1250
QM
Half-Bridge MOSFET Driver

A4926

ASIL-B

Half-Bridge MOSFET Driver

A4927

ASIL-B

Hall-Effect Switch

A1160

QM
Hall-Effect Switch

A1162

QM
Dual Hall-Effect Latch
A1233
QM
Dual Hall-Effect Latch

APS12625

ASIL-A

Dual Hall-Effect Latch

APS12626

ASIL-A

Angle Position Sensor
A1334
QM
Angle Position Sensor

A1335

QM
Angle Position Sensor
A1338

QM
Linear Position Sensor
A1341
QM
DC Gate Driver
A3921
QM
Full-Bridge MOSFET Driver
A3922

ASIL-D

Full-Bridge MOSFET Driver

A3924

ASIL-D*

DC Gate Driver
A3941
QM
BLDC Gate Driver - Digital
A4910
QM
BLDC Gate Driver - Power
A4933
QM
BLDC Gate Driver - Power
A4935
QM
Multi-Output Regulator

ARG81400
ASIL-D
Multi-Output Regulator

ARG81401
QM
Multi-Output Regulator

ARG82800
ASIL-D
Multi-Output Regulator

A4408
QM
Multi-Output Regulator

A4409
QM
Multi-Output Regulator

A4411

QM
Multi-Output Regulator

A4412
ASIL-D
Multi-Output Regulator

A4413
QM
HEV/EV Systems
DC Gate Driver
A3921
QM
Half-Bridge MOSFET Driver

A4926

ASIL-B

Half-Bridge MOSFET Driver

A4927

ASIL-B

Full-Bridge MOSFET Driver
A3922

ASIL-D

Full-Bridge MOSFET Driver

A3924

ASIL-D*

DC Gate Driver
A3941
QM
BLDC Gate Driver - Digital
A4910
QM
BLDC Gate Driver - Power
A4933
QM
BLDC Gate Driver - Power
A4935
QM
Multi-Output Regulator

ARG81400
ASIL-D
Multi-Output Regulator

ARG81401
QM
Multi-Output Regulator

ARG82800
ASIL-D
Multi-Output Regulator

A4408
QM
Multi-Output Regulator

A4409
QM
Multi-Output Regulator

A4411

QM
Multi-Output Regulator

A4412
ASIL-D
Multi-Output Regulator

A4413
QM
Various (SEooC)
Hall-Effect Switch
A1130-1-2

ASIL-B

Hall-Effect Switch

A1160

QM
Hall-Effect Switch
A1162

QM
Hall-Effect Latch/Switch
A1205
QM
Hall-Effect Latch

A1220-1-2-3
QM
Hall-Effect Switch

A1250
QM
Dual Hall-Effect Latch

A1233
QM
Dual Hall-Effect Latch

APS12625

ASIL-A
Dual Hall-Effect Latch
APS12626

ASIL-A
A²-SIL™ QM
Quality Managed (QM) products have been developed according to the automotive quality requirements of TS 16949 and contain features targeted for automotive safety applications. These products can be qualified for use in accordance with ISO 26262 in compliant safety systems by ensuring a robust integration of the component into the system design. Safety documentation will be provided to support and guide the integration process.
A²-SIL™ ISO 26262
ISO 26262 Certified Products have been designed in compliance to the ISO 26262:2011 standard at the component level.
A²-SIL™ Highlights
Offer A²-SIL™ safety products that are Quality Managed.
Offer A²-SIL™ safety products that are fully compliant to ISO 26262.
Products cover a range of sensor ICs, motor driver ICs and power management semiconductors.
Products are designed and manufactured to an ISO 26262 compliant process certified by SGS-TÜV Saar GmbH.
A²-SIL™ product documentation includes:

DFMEA : IC Design failure mode and effect analysis
FMEDA : System level failure mode and effect with diagnostic analysis
FTA : Fault tree analysis
Safety Manual

Safety deliverables are optimized in close cooperation with our customers based on an understanding of the system safety requirements.
ISO 26262 Technical Advisory Group
Allegro is a member of the US technical advisory group for ISO 26262.
Allegro's Functional Safety Manager is a contributing member to ISO/PAS 19451: 'Application of ISO 26262 to Semiconductors' and is one of three US delegates to the International Semiconductor subgroup.
ISO26262 Customer-Allegro Interface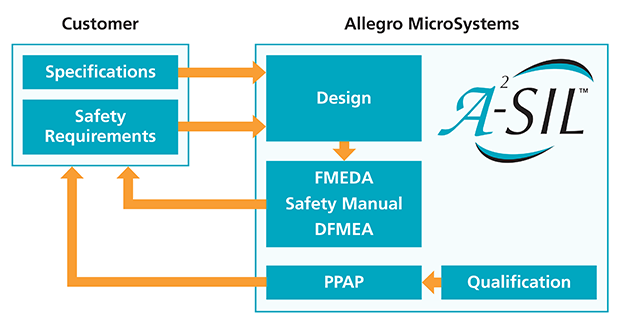 Key Automotive Applications
Allegro MicroSystems, LLC ("Allegro") products may, in certain cases, be promoted to assist with applications related to safety. Allegro's objective is to provide an opportunity for customers to design and develop their own end-products that meet functional safety standards and requirements. However, Allegro's products are not to be used in any devices or systems in which a failure of Allegro's product can reasonably be expected to cause bodily harm. Customer agrees that it has sole responsibility for compliance with all applicable laws, regulations, and safety-related requirements regarding its products. Customer shall indemnify Allegro and its representatives against any damages arising out of the use of any Allegro products in safety-critical applications.
Allegro assumes no responsibility for the intended use of its products, nor for any infringement of patents or other rights of third parties which may result from their use. Allegro reserves the right to make, from time to time, such departures from the detail specifications as may be required to permit improvements in the performance, reliability, or manufacturability of its products. Before placing an order, customer is cautioned to verify the detailed specifications.