Allegro MicroSystems Announces General Counsel Transition
8月 12, 2020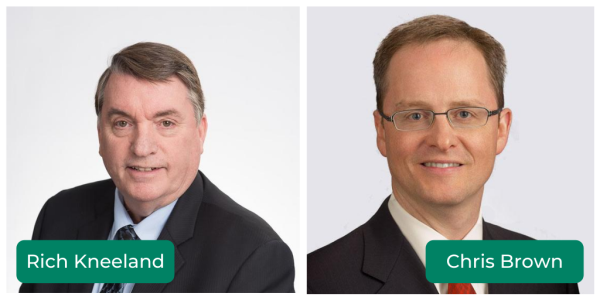 Allegro MicroSystems Announces General Counsel Transition
8月 12, 2020
Chris Brown appointed as successor to Richard Kneeland
Allegro MicroSystems, a global leader in sensing and power semiconductor solutions, today announced that Chris Brown has joined the executive leadership team as Senior Vice President, General Counsel and Assistant Corporate Secretary. Chris is the successor to Richard Kneeland, Allegro's General Counsel since 2007, who has transitioned to the role of Senior Vice President, Special Counsel and Corporate Secretary supporting specific corporate activities.
Kneeland joined Allegro in 1972 and has been responsible for managing Allegro's legal and corporate governance matters. In July, Kneeland announced his transition to a part-time advisory role on the executive leadership team, reporting to the CEO.
"During Rich's 13 years as General Counsel and a member of the executive team, we worked together to strategically transform Allegro's global operating structure and to execute the transaction that brought in One Equity Partners as our new shareholder" said Ravi Vig, President and CEO of Allegro. "The Board of Directors and I appreciate Rich's ongoing leadership and advisement, and I'd like to thank Rich for his many contributions, particularly in enhancing our governance and growing our intellectual property portfolio. Because of his efforts, our legal function is poised for future success."
Prior to joining Allegro, Chris Brown served as Executive Vice President, Chief Counsel and Secretary at Finisar Corporation, a global technology leader in optical communications components and subsystems, where he played an instrumental role in multiple public finance and acquisition transactions.
"We are excited to welcome Chris to the team," said Vig. "His experience with leading technology companies and extensive knowledge in areas such as M&A, strategic partnerships, IP portfolio management, corporate governance and policy development will be valuable as we continue to grow our business and technologies to help our customers bring their breakthrough innovations to life. I look forward to working with Chris on the continued transformation of our corporation."
Brown holds a B.A. in Economics from the University of Massachusetts and a J.D. from Boston College School of Law.