Allegro to Showcase Intelligent Solutions Ideal for Solar Applications using Current Sensor ICs at SNEC 2019
五月 23, 2019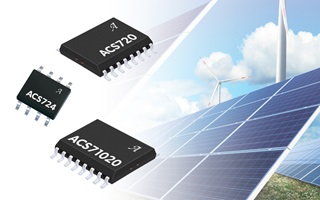 Allegro to Showcase Intelligent Solutions Ideal for Solar Applications using Current Sensor ICs at SNEC 2019
五月 23, 2019
Allegro MicroSystems (Allegro), a leader in power and sensing solutions for motion control and energy efficient systems, will display and demonstrate their intelligent solutions for green energy at the SNEC 2019 Exhibition (Shanghai, China, 4-6 June) at booth # E6-806. These innovative solutions are helping give customers a competitive edge in the renewable energy market.
Allegro's current sensor ICs shine at high voltage with industry leading isolation ratings of up to 4800Vrms with working voltages as high as 1100Vrms, making them ideal for residential and industrial solar inverters. At the exhibition, Allegro will demonstrate the use of cost-effective current sensor ICs that enable monitoring, control and protection of various sub-systems within the different types of solar inverters—all while reducing the needed footprint thanks to their compact packaging.
This demonstration will include the ACS724 and ACS720, ideal for PV String and DC input current measurement for MPPT while providing a high voltage working isolation of up to 1.1 kVDC . Allegro will also showcase the ACS71020, a highly isolated power monitoring IC that enables current and voltage monitoring needed for MPPT using one IC.
Allegro's extensive product portfolio of magnetic sensor products, plus gate driver, regulator and lighting ICs, provides comprehensive solutions for solving the challenges of next generation renewable energy systems.
Show attendees are encouraged to make time to join Allegro's Shaun Milano, Business Unit Director, Current Sensor and Signal Isolators, on June 4th at 10:30AM in Ballroom 4 to learn more about innovative, fully integrated current sensor ICs for photo-voltaic inverter string monitoring and MPPT applications.
Don't miss the chance to learn how Allegro is moving technology—and the world—toward a safer and more sustainable future in Shanghai, China, June 4-6.
Visit Allegro's events page to learn more.
Click here to learn more about SNEC 13th (2019) International Photovoltaic Power Generation and Smart Energy Exhibition and Conference.