Allegro MicroSystems Receives Three Auto Manufacturer Awards For Outstanding Customer Support and Supply-Chain Management
一月 30, 2023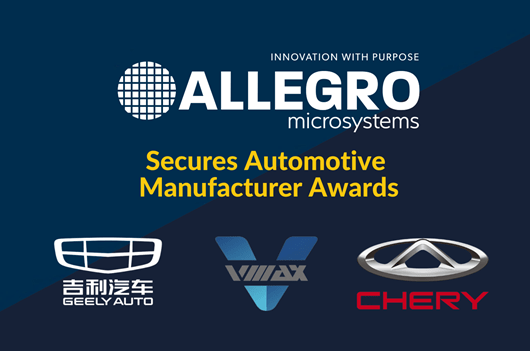 Allegro MicroSystems Receives Three Auto Manufacturer Awards For Outstanding Customer Support and Supply-Chain Management
一月 30, 2023
Manchester, NH, USA – Allegro MicroSystems, Inc. ("Allegro") (Nasdaq: ALGM), a global leader in sensing and power solutions for motion control and energy efficient systems, announced that it has received several automotive manufacturer awards for its commitment to Customer Support and Supply-Chain Management.
Recently, Allegro received Wodeer and Geely's "Best Cooperation Supplier of 2022" Award, in recognition of the company's dedication and support to customer success and supply chain management. Allegro's commitment to building deep relationships within all levels of Wodeer's organization, coupled with the company's ability to provide a stable supply chain, and closely follow up with customers to quickly respond to any present technical, quality and supply issues helped in securing the award.
In November 2022, Allegro was presented with the "Excellent Quality Award of the Year" from automotive manufacturer VMAX. Allegro was chosen for this award, as they had zero issues related to quality control or customer support throughout 2022 and were praised by VMAX executives for their fast response time to customer requests and inquiries.
Rounding out the awards, Allegro recently won Chery Automobile's "2021 Best Support Award." Despite several supply chain challenges due to the recent pandemic, Allegro helped to provided strong customer support and a steady product supply to Chery and other customers by optimizing supply chain efficiency, communicating with customers in a timely manner, predicting demand early and increasing stocking. As a chip supplier that has served the automotive industry for many years, Allegro's leading technology and commitment to customer support has been highly praised by Chery and others throughout the automotive industry.
"It is an honor to be recognized by Allegro's customers and partners for our commitment to customer success and supply-chain management," said Tom Teebagy, Senior Vice President Operations and Quality, Allegro MicroSystems. "We pride ourselves on delivering innovative technology and outstanding support for our products. Despite the many challenges we've faced throughout the pandemic, we've been able to maintain delivery of world-class services and support thanks to the Allegro leadership team, and our team around the globe."
About Allegro MicroSystems
Allegro MicroSystems (Nasdaq: ALGM) is redefining the future of sensing and power technologies. From green energy to advanced mobility and motion control systems, our team is passionate about developing intelligent solutions that move the world forward and give our customers a competitive edge. With global engineering, manufacturing and support, Allegro is a trusted partner to both large enterprises and regional market leaders worldwide. Visit www.allegromicro.com.
Media Contact
Tyler Weiland
Shelton Group
+1-972-571-7834
tweiland@sheltongroup.com
Company Contact
Jalene Hoover
V.P. of Investor Relations
+1-512-751-6526
jhoover@allegromicro.com