Allegro MicroSystems Expands Low EMI DC/DC Buck Regulators Portfolio
7月 24, 2018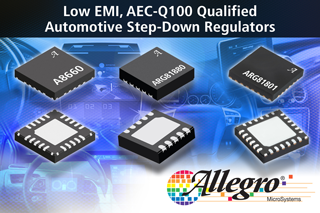 Allegro MicroSystems Expands Low EMI DC/DC Buck Regulators Portfolio
7月 24, 2018
50 V/40 V-Rated ICs Cover Wide Output Current Range (<1 A to 10 A+)
Allegro MicroSystems announces the
A8660
and
ARG81801
, the latest additions to their Regulators Portfolio. These devices reduce EMI through switching frequency dithering and allow system noise management though external clock synchronization. These devices are AEC-Q100 Automotive Qualified, designed to operate over a wide input voltage range to withstand automotive stop/start, cold crank, and load dump conditions, and are also capable of switching at 2.2 MHz for reduction in component size and cost. Comprehensive safety and protection features enable robust designs and simplify component qualification. The devices cover a wide output current range (from sub 1 A to 10 A), provide tightly regulated supply rails across temperatures, and are targeted at automotive and industrial applications such as ADAS, HUD, Telematics, Infotainment, Clusters, Camera Recorders, ECUs, Smart Appliances, Industrial Automation/Robotics, IoT and others. Reference designs and demo boards are available to simplify design and evaluation.
The
A8660
synchronous buck controller can drive loads up to 10 A, and addresses the constantly growing need for higher power in automobiles and industrial equipment. It features flexible power monitoring with adjustable rising delay for microcontroller reset and power sequencing. A high voltage, battery-short tolerant enable input, combined with a second logic
level input signal simplifies ignition input driven automotive designs. The A8660 is offered in a 4×4 QFN-20 wettable flank package with exposed power pad (suffix ES).
The
ARG81801
provides good thermal performance for up to 3 A designs, even on PCBs with no vias under the thermal pad, and is offered in a 4×4 QFN-24 exposed pad wettable flank package.
About Allegro

Allegro MicroSystems, (Allegro) is a leader in developing high-performance power and sensing semiconductors. Allegro's innovative solutions serve high-growth applications within the automotive market, with additional focus on industrial and consumer/computing solutions. Allegro is headquartered in Manchester, New Hampshire (USA) with design, applications, and sales support centers located worldwide. For more information, please visit www.allegromicro.com.