Allegro MicroSystems, Inc. Announces A New Three-Phase Sensorless Fan Driver
10月 26, 2010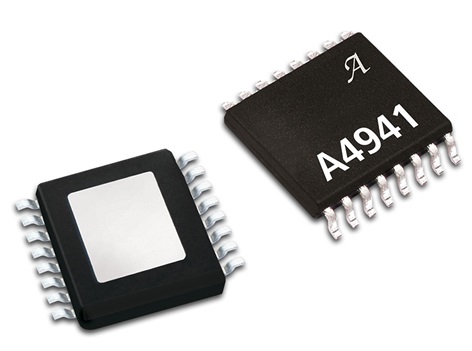 Allegro MicroSystems, Inc. Announces A New Three-Phase Sensorless Fan Driver
10月 26, 2010
Designed for Fan and Blower Applications
Worcester, MA – Allegro MicroSystems, Inc. announces a new three-phase, sensorless, brushless DC motor driver IC to complement their existing family of brushless DC devices. Allegro's new A4941 offers sensorless commutation, a wide supply voltage range, 1.25 A peak output current, -40°C to 105°C operating temperature range, lock detection with auto restart, and a small eTSSOP package with soft switching for reduced audible noise. This new device is targeted at the consumer white goods and office automation markets with key fan applications used in refrigerators and air purifiers.
The motor drive system consists of three half bridge NMOS outputs, BEMF sensing circuits, adaptive commutation control, and state sequencer. The sequencer determines which output devices are active. The BEMF sensing circuits and adaptive commutation circuits determine when the state sequencer advances to the next state.
The three half-bridge outputs are controlled by a state machine with six possible states. Motor BEMF is sensed at the tri-stated output for each state. BEMF sensing motor commutation relies on the accurate comparison of the voltage on the tri-stated output to the voltage at the center tap of the motor. The BEMF zero crossing, the point where the tri-stated motor winding voltage crosses the center tap voltage, is used as a positional reference. The zero crossing occurs roughly halfway through one commutation cycle.
At startup, commutations are provided by an onboard oscillator in order to step the motor to generate BEMF. When legitimate BEMF zero crossings are detected normal BEMF sensing commutation is achieved.
Adaptive commutation circuitry and programmable timers automatically determine the optimal commutation points with minimal external components. Output speed can be monitored with the FG output signal which occurs when a BEMF zero crossing is detected. Duty cycle control of the PWM input is applied directly to the motor windings to control speed or torque. The PWM input is also used to disable motor operation and put the IC into a low power sleep mode.
Protection features include thermal shutdown with hysteresis, under voltage lockout (UVLO), crossover current and locked rotor protection with auto restart. The A4941GLP-T is supplied in a 16 lead TSSOP package with exposed power tab. The package is lead (Pb) free, with 100% matte tin leadframe plating.