Allegro MicroSystems, Inc. Introduces a New High Performance Fault Tolerant LED Driver
11月 09, 2010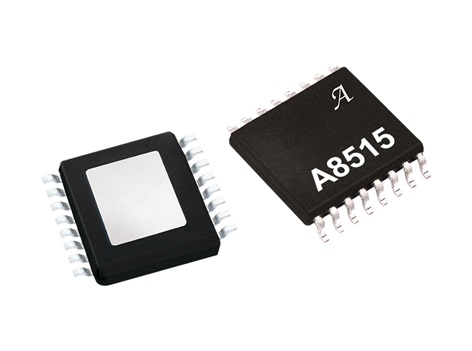 Allegro MicroSystems, Inc. Introduces a New High Performance Fault Tolerant LED Driver
11月 09, 2010
Fully Integrated Solution Provides 240 mA total via 2-Channels
Worcester, MA – Allegro MicroSystems, Inc. introduces a new multi-output white LED driver for LCD backlighting in consumer and industrial displays. Allegro's new A8515 device has advanced protection features to provide optimized viewing. It integrates a current-mode boost converter with internal power switch and two current sinks.
The boost converter can drive up to 24 LEDs at 120 mA. The two LED current sinks can also be paralleled together to achieve LED currents up to 240 mA. This new device can operate from a single power supply from 5 V to 40 V. The low 720 mV regulation voltage on LED current sources reduces power loss and improves efficiency. A comprehensive fault table is included in the datasheet to describe the leading-edge performance and protection features of the A8515. It also integrates a driver for an (optional) external input disconnect switch.
The A8515GLPTR-T is available in an eTSSOP-16 (LP) exposed pad package for advanced thermal performance.