Allegro MicroSystems, Inc. Announces New Full-Bridge DMOS PWM Motor Driver ICs
8月 30, 2011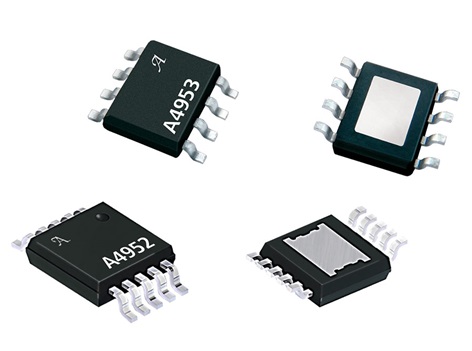 Allegro MicroSystems, Inc. Announces New Full-Bridge DMOS PWM Motor Driver ICs
8月 30, 2011
With Internal Fixed Off-time PWM for Adjustable Current Limit
Worcester, MA - Allegro MicroSystems, Inc. announces the release of two devices that complement the next generation family of fully-integrated single, full-bridge motor driver ICs. Allegro's
A4952
and
A4953
are designed for use in brush DC motor drive applications and are rated for peak output currents to ±2 A, and operating voltages to 40 V. Input terminals are provided for use in controlling the speed and direction of a DC motor with externally applied PWM control signals. Both devices feature internal fixed off-time PWM where the maximum current can be adjusted by the user's selection of an optional sense resistor and the voltage applied to a VREF pin.
Internal synchronous rectification control circuitry is provided to lower power dissipation during PWM operation. Internal circuit protection includes overcurrent protection (OCP), motor lead short to ground or supply, thermal shutdown with hysteresis, under voltage monitoring of VBB, and crossover current protection. The A4952 includes a FAULT pin and the ability to change the behavior of the OCP latch based on the logic level applied to the RTRY pin. These devices are primarily targeted at the office automation market; however, they are also suitable for commercial and industrial applications requiring a brush DC motor driver IC.
The A4952ELYTR-T is available in a 10-pin MSOP package and the A4953ELJTR-T is available in an 8-pin SOICN package. Both packages feature an exposed pad for enhanced thermal dissipation and are lead (PB) free with 100% matte tin plated lead frames.