Allegro MicroSystems, Inc. Announces New Dual, Full-Bridge PWM Motor Driver IC
1月 24, 2012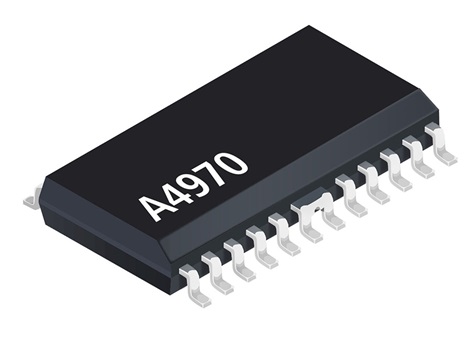 Allegro MicroSystems, Inc. Announces New Dual, Full-Bridge PWM Motor Driver IC
1月 24, 2012
Significant Reduction in the Quiescent and Switching Power Losses
Worcester, MA – Allegro MicroSystems, Inc. announces the release of a new dual, full-bridge PWM motor driver IC targeted at the office automation, automotive, industrial and consumer markets. Allegro's A4970 motor driver IC utilizes a DMOS output technology that drives both windings of a bipolar stepper motor or bidirectionally controls two DC motors. Both bridges are capable of sustaining 45 V and include internal pulse-width modulation (PWM) control of the output current to 750 mA.
For PWM current control, the maximum output current is determined by user selection of a reference voltage and sensing resistor. Two logic-level inputs select output current limits of 0%, 33%, 67%, or 100% of the maximum level. A PHASE input to each bridge determines load current direction.
The device is supplied in a 24-pin surface-mount wide SOIC with two pairs of batwing leads (LB). The webbed-pin construction provides for maximum package power dissipation in the smallest possible construction. The package is lead (Pb) free, with 100% matte tin leadframe plating.