Allegro MicroSystems, LLC Announces New 3.0 A Buck Regulator With Low VIN Dropout And Enhanced Idle/Stop/Start Recovery Operation
1月 06, 2015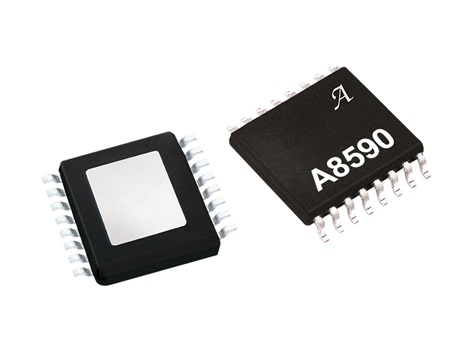 Allegro MicroSystems, LLC Announces New 3.0 A Buck Regulator With Low VIN Dropout And Enhanced Idle/Stop/Start Recovery Operation
1月 06, 2015
Adding to the Extensive Family of Wide VIN Automotive Grade Regulator ICs
Worcester, MA – Allegro MicroSystems, LLC announces a new buck regulator IC to add to its industry leading lineup of automotive regulators. Allegro's A8590 has been designed to provide the power supply requirements of next generation car audio and infotainment systems. The A8590 provides all the control and protection circuitry to produce a 3.0 A regulator to withstand the rigors of wide automotive battery input voltages. In addition to automotive infotainment applications, the A8590 can also be used in cluster and center stack applications as well as in advanced driving assistance systems (ADAS).
The A8590 employs pulse frequency modulation (PFM) to draw less than 50 μA from 12 VIN while supplying 3.3 V/40 μA. After startup, the A8590 operates down to at least 3.6 VIN (VIN falling) and maintains ±1.0% output voltage accuracy. Features of the A8590 include PWM/PFM mode control and the ability to synchronize PWM frequency to an external clock. It also has a SLEEP pin for an ultra-low current shutdown mode.
The A8590 has external compensation to accommodate a wide range of frequencies and external components and provides a power-on reset (NPOR) signal validated by the output voltage. Extensive protection features of the A8590 include pulse-by-pulse current limit, hiccup mode short circuit protection, open/short asynchronous diode protection, BOOT open/short voltage protection, VIN undervoltage lockout, VOUT overvoltage protection, and thermal shutdown.
The A8590 adds to Allegro's extensive family of low IQ automotive regulator ICs as shown in the following table:
Low IQ DC-DC
A8585/-1
A8585-2/3
A8580
A8589
A8590
Description
Selectable PWM/PFM
Automatic PWM/PFM
Selectable PWM/PFM
Lower Dropout A8580
Higher Current A8589
Switching Frequency
300 kHz to 550 kHz
250 kHz to 2.4 MHz
Peak Current Limit
3.5 A
4.1 A
5.5 A
The A8590KLPTR-T is supplied in a low profile 16-pin TSSOP package with exposed power pad (suffix LP). It is lead (Pb) free, with 100% matte-tin leadframe plating.