Allegro MicroSystems, LLC Announces New Three-Wire, True Zero-Speed, Surface Mount Magnetic Speed Sensor IC
6月 28, 2016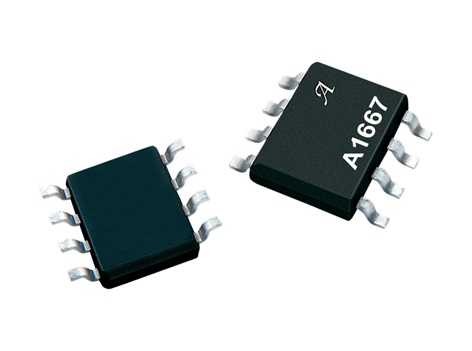 Allegro MicroSystems, LLC Announces New Three-Wire, True Zero-Speed, Surface Mount Magnetic Speed Sensor IC
6月 28, 2016
Design Allows for Ease of Use for PCB Applications Over Typical SIP Based Packages
In response to market requests of a highly integrated speed sensor with advance algorithm PCB mounted systems, Allegro has released the
A1667 in a surface mount SOIC-8 package
. This device provides a user friendly solution for highly compact ring magnet applications utilizing PCB mounting. This sensor is ideal for applications such as
automotive transmissions
and industrial equipment.
This sensor IC incorporates a dual element Hall IC that switches in response to differential magnetic signals created by a ring magnet. The IC contains a sophisticated compensating circuit designed to eliminate the detrimental effects of magnet and system offsets. Digital processing of the analog signal provides zero-speed performance independent of air gap and also dynamic adaptation of device performance to the typical operating conditions found in automotive applications (reduced vibration sensitivity). High-resolution peak detecting DACs are used to set the adaptive switching thresholds of the device. Hysteresis in the thresholds reduces the negative effects of any anomalies in the magnetic signal associated with the targets used in many automotive applications. The open-drain output is configured for three-wire applications.
In addition to the 8-pin SOIC surface mount package (suffix L), the A1667 is also available in a 4-pin SIP through-hole package (suffix K). Both packages are lead (Pb) free with 100% matte-tin-plated leadframes.