Allegro MicroSystems, Inc. Announces New Unipolar Two-Phase Microstepping Motor Driver
July 07, 2011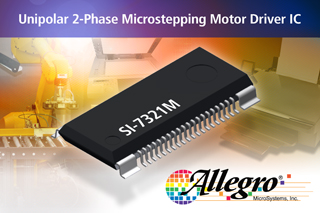 Allegro MicroSystems, Inc. Announces New Unipolar Two-Phase Microstepping Motor Driver
July 07, 2011
Multi-Chip Structure in a 18.6 x 9.9 x 2.3 mm Surface-Mount Package
Worcester, MA - Allegro MicroSystems, Inc. announces a new unipolar two-phase constant-current mode motor driver IC which is manufactured and developed by Sanken Electric Co., Ltd. in Japan. The SI-7321M features an efficient unipolar driver design for full- and half-step operation, and 1/4 , 1/8 , and 1/16 microstepping. The clock-in type input interface allows simplified control logic, with the flexibility of sequencer timing using either rising Clock edge only or both rising and falling edges. Additional flexibility is provided by user-configurable blanking time, and load circuit short or open protection (patent pending). Along with inputs for built-in sense current detection, these features minimize power losses. This new motor driver is targeted at the office automation and industrial equipment markets.
The device has a multi-chip internal structure for lower thermal resistance. The control IC (MIC) and the four power elements (MOSFET) are all separate ICs. The package (HSOP) provides wide output terminals at each corner, further enhancing device thermal dissipation.
The built-in excitation distribution circuit (sequencer) allows motor control using only the Clock signal for simple operations (forward, reverse, hold), with motor speed control by frequency input into Clock pin, and rotation direction control by a dedicated logic input. This eliminates logic signal lines required for conventional phase-input methods, and reduces demand on heavily-used CPUs.