Allegro MicroSystems, Inc. Announces New Full-Bridge MOSFET Pre-Driver IC
October 09, 2012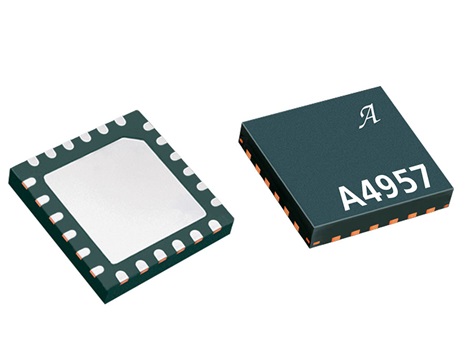 Allegro MicroSystems, Inc. Announces New Full-Bridge MOSFET Pre-Driver IC
October 09, 2012
Targeted to Drive High Current Brush DC Motors in Portable Applications
Worcester, MA – Allegro MicroSystems, Inc, announces a new full-bridge MOSFET controller for use with external N-channel power MOSFETs. The A4957 is designed for applications with high-power brush DC motors. It has a wide supply voltage range of 7 V to 50 V. This new device is targeted for commercial and industrial applications such as portable power tools, lawn and garden equipment, industrial blowers, lifts and conveyors, and forklifts.
Offered in the 24 lead ES package, Allegro's A4957 is intended to meet the performance and price point driving motors in these applications. A unique charge pump regulator provides full ( >10 V ) gate drive for supply voltages down to 7 V or as low as 4.5 V with a reduced gate drive. A bootstrap capacitor is used to provide the above battery supply voltage required for N-channel MOSFETs. A unique bootstrap charge management system ensures that the bootstrap capacitor is always sufficiently charged to supply the high-side gate drive circuit. Each of the power MOSFETs is controlled independently but all are protected from shoot-through by dead time that can be configured by the user through an external resistor. Integrated diagnostics provide indication of undervoltage and over-temperature faults.
The A4957SESTR-T is supplied in a 24-lead, 4 mm × 4 mm × 0.75 mm QFN package with an exposed pad for enhanced thermal dissipation. It is lead (Pb) free, with 100% matte tin lead-frame plating (suffix T).