Allegro MicroSystems, LLC Announces Revolutionary Automotive Three-Phase Isolator MOSFET Driver IC
May 27, 2014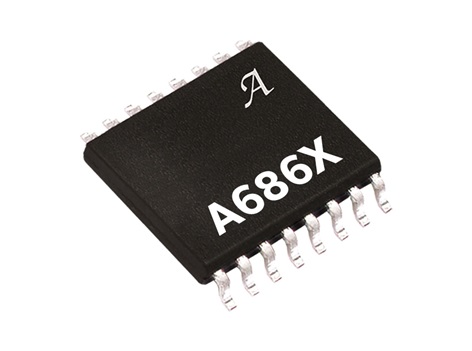 Allegro MicroSystems, LLC Announces Revolutionary Automotive Three-Phase Isolator MOSFET Driver IC
May 27, 2014
Designed to Replace Mechanical Relays and Discrete Driver Circuits
Worcester, MA – Allegro MicroSystems, LLC introduces a new N-channel power MOSFET driver capable of isolating a three phase load by controlling the in-phase isolation MOSFETS. Allegro's A6861 motor driver IC is intended for automotive systems that must meet Automotive Safety Integrity Level (ASIL) requirements. Key applications include: EPS (Electronic Power Steering) systems, electric braking, and three-phase relay drivers. In safety critical applications motor isolation is an essential requirement which is currently addressed with discrete circuitry or relays in most competitive solutions. "Allegro A²-SIL™ products are designed with industry-leading, innovative features to help customers achieve the highest ASIL rating possible. Our A6861 three-phase isolation driver is intended to replace a relay driven motor disconnect in automotive EPS (Electronic Power Steering) or other safety critical systems. It can also provide the drive for reverse battery protection and battery isolation. Our A2-SIL products can assist a system designer to achieve ASIL-D certification", said Steve Lutz, Director, Strategic Marketing - Motors and Interface.
The A6861 has three independent floating gate drive outputs to maintain the power MOSFETs in the on state, or the off state, over the full supply range in the presence of high phase-voltage slew rates. With the addition of a few external components it can also isolate the load when high load currents are present. An integrated charge pump regulator provides the above battery supply voltage necessary to maintain the power MOSFETs in the on state continuously when the phase voltage is equal to the battery voltage. The charge pump will maintain sufficient gate drive (>7.5 V) for battery voltages down to 4.5 V with 100 kΩ gate-source resistors. The three gate drives can be independently controlled by a logic level control input. In typical applications the MOSFETs will be switched on within 8 μs and will switch off within 1 μs. An undervoltage monitor checks that the pumped supply voltage is high enough to ensure that the MOSFETs are maintained in a safe conducting state.
The A6861KLPTR-T is available in a 16-lead TSSOP package (suffix LP) with an exposed pad for enhanced thermal performance. Please contact your local Allegro sales representative for an A6861 demonstration board to speed up your IC evaluation.