Allegro MicroSystems, LLC Announces New Silicon Carbide Schottky Barrier Diode FMCA Series
July 22, 2014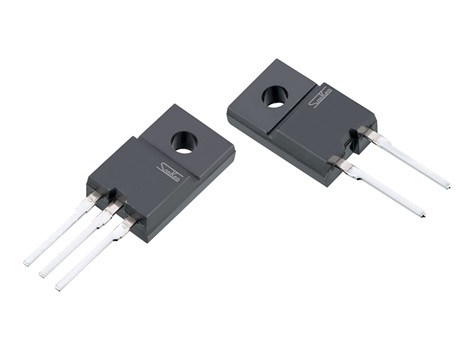 Allegro MicroSystems, LLC Announces New Silicon Carbide Schottky Barrier Diode FMCA Series
July 22, 2014
Designed to Minimize Power Supply Loss in Large Data Processing Servers
Worcester, MA – Allegro MicroSystems, LLC announces the release of the next generation series of silicon carbide schottky barrier diodes. The FMCA series achieves low leakage current and high speed switching at high temperatures and is offered by Allegro and manufactured and developed by Sanken Electric Co., Ltd. in Japan. This new series is targeted at the industrial and computer markets with end applications to include servers and those that require high frequency rectification circuits.
The FMCA series uses the next generation of power semiconductor SiC (silicon carbide) and a 650 V breakdown voltage in a schottky barrier configuration, making it suitable for continuous current mode PFC circuits. These devices are capable of reducing the power loss that results from the recovery current. The diode's high-speed switching capability and energy-saving functionality allows for the potential downsizing of equipment.
Several key features of this new series are improved efficiency of the power supply with low recovery loss characteristics of the SiC-SBD, low-resistance with a high-speed switching SiC-MOSFET that realizes a compact and highly efficient power supply and an increased current within high temperature environments to maintain stable switching due to the elimination of thermal runway. The FMCA series is available in a TO-220F package.