Allegro MicroSystems, LLC Introduces New Hall-Effect Speed/Direction Sensor IC With Hysteresis Detection
February 10, 2015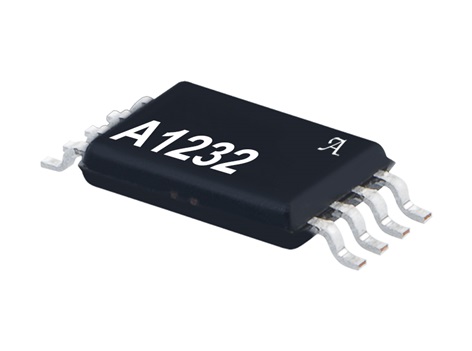 Allegro MicroSystems, LLC Introduces New Hall-Effect Speed/Direction Sensor IC With Hysteresis Detection
February 10, 2015
Improved Overall Accuracy when Sensing High Resolution, Multi-Pole Ring Magnets
Worcester, MA – Allegro MicroSystems, LLC introduces a new Hall-effect speed and direction sensor IC with hysteresis detection. The A1232 is a highly sensitive, temperature stable, magnetic sensing device ideal for use in ring magnet based speed and direction systems in harsh automotive and industrial environments. It is the first device of its kind with the ability to detect when it powers up in the magnetic hysteresis band. This feature reduces angle accuracy error, which can occur when edges are missed at start-up. This new magnetic sensor IC is targeted at the automotive motor market. Key applications include: window lifts, sunroofs, sliding doors, and tail/trunk lift gates. This new device is also suitable for applications such as garage door openers and window blinds.
Allegro's A1232 includes dual Hall elements spaced 1.63 mm apart that are photolithographically aligned within 1 µm. The precise spacing of the sensing elements eliminates a major manufacturing hurdle encountered when using fine pitch ring magnets. The signals from the dual Hall elements are encoded into logic outputs representing the speed and direction of the target. Factory trimming and Allegro's proprietary Chopper Stabilization / Dynamic Offset Cancellation techniques provide precise, symmetrical magnetic switch-points over a wide range of operating conditions.
A built-in voltage regulator, short-circuit protected outputs, internal Zener clamps, reverse battery protection, and a -40°C to +150°C operating range give the A1232 the ruggedness demanded by automotive applications.
The A1232LLETR-T is available in an 8-pin TSSOP (suffix LE) surface mount package.