Allegro MicroSystems Announces a New Two-Wire, Zero-Speed Differential Gear-Tooth Sensor IC
May 23, 2017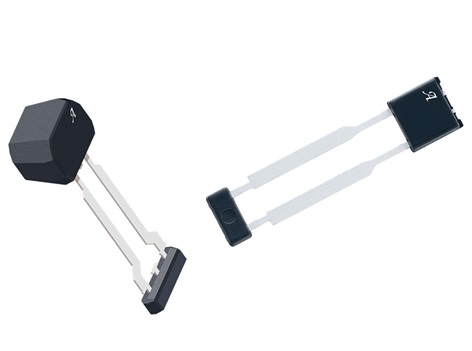 Allegro MicroSystems Announces a New Two-Wire, Zero-Speed Differential Gear-Tooth Sensor IC
May 23, 2017
Allegro MicroSystems has announced a new gear-tooth sensor in an optimised, industry-proven, Hall- effect integrated circuit (IC), rare-earth pellet, and high temperature ceramic capacitor in a single over molded package. The integrated capacitor reduces the need for external EMI protection.
Allegro's ATS684LSN is a dual element differential sensor design capable of providing stable, signal perturbation-immune, output performance for speed sensing applications. The back-bias magnet creates a differential magnetic signal in the presence of a rotating ferromagnetic target. This fully integrated speed sensor solution eliminates the need for additional manufacturing steps throughout the supply chain, simplifying the overall system design.

The single overmold design of this new device integrates the key operating components to reduce mechanical tolerances and achieve optimal operating performance every time, whether it's an industrial gear speed sensor or an automotive transmission sensor. Built-in test capability and an automotive-grade semiconductor process ensures the quality and reliability that automotive companies demand in their applications (i.e. transmission speed sensor ICs). The advanced algorithms and two-wire regulated current output provide an ideal solution for obtaining edge and duty cycle information in gear-tooth-based applications such as transmission speed.

The ATS684 is targeted at the automotive market and is provided in a lead (Pb) free, two-pin back-biased SIP package (suffix SN) with tin leadframe plating.

Please click here to download a copy of the ATS684LSN gear tooth sensor data sheet.