Spin Your Motor Instantly With Allegro's A4915 Three-Phase BLDC Motor Driver Evaluation Kit
12月 03, 2013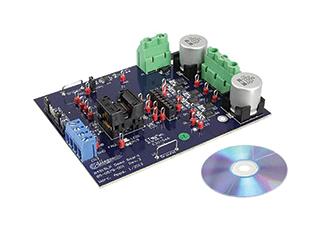 Spin Your Motor Instantly With Allegro's A4915 Three-Phase BLDC Motor Driver Evaluation Kit
12月 03, 2013
Worcester, MA – Allegro MicroSystems, LLC introduces a new product evaluation kit for their A4915 three-phase MOSFET controller IC to assist customers during the design process. With on-chip hall commutation and a unique SPEED control input, spinning a motor with Allegro's A4915 couldn't be easier. The SPEED input takes an analog voltage and generates pulse width modulated (PWM) output with variable duty cycle. This innovative control interface combined with on-chip hall commutation makes it possible to efficiently control a BLDC motor with little or no micro processing power. Allegro's solution reduces PCB space by 75% over existing competitive solutions on the market today.
The A4915 evaluation kit is fully compliant to 50 V and includes everything needed to spin a motor - just provide a voltage supply and a motor and you will be able to see just how simple the A4915 can be to control a BLDC motor with a simple analog voltage or direct PWM. Six all N-channel power MOSFETs are mounted on the evaluation kit and can supply 30 A peak and 20 A nominal run current at room temperature. If larger loads are needed the A4915 has jumpers that disable the onboard bridge and provide connections to add an external bridge. Another feature on the evaluation board, which makes operation and evaluation simple, is the onboard 5 V regulator which creates the secondary supply for logic inputs.
This new development kit is targeted at both the industrial and consumer markets with end applications to include power tools, lawn and garden equipment, pumps, ticketing and ATM machines and household appliances.
The A4915 development kit is available for both the 28-pin TSSOP with an exposed thermal pad (suffix LP) and a 28-contact 5 × 5 mm QFN with an exposed thermal pad (suffix ET). To place an order for one of Allegro's Evaluation Boards, please contact Digi-Key:
OR