Allegro MicroSystems, Inc. Introduces a New Dual Analog/PWM Output Programmable Linear IC
January 29, 2013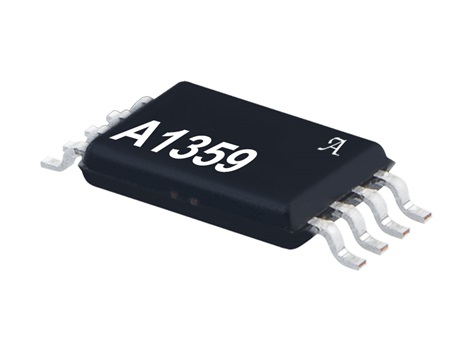 Allegro MicroSystems, Inc. Introduces a New Dual Analog/PWM Output Programmable Linear IC
January 29, 2013
Designed for Applications Requiring Output Redundancy
Worcester, MA –Allegro MicroSystems, Inc. introduces a new dual analog/PWM output, one-time programmable, linear IC which allows the user to optimize the device in a finished sensor assembly. Allegro's A1359 linear IC provides a dual tracking output, where the PWM output tracks the analog output to within a +/-3% mismatch. New applications for linear output Hall Effect sensors, such as displacement and angular position require high accuracy in conjunction with redundant outputs. Allegro's new programmable linear device has been designed specifically to achieve both goals.
This new device is targeted at the automotive market with end applications to include electronic power steering (torque sensing), transmission component position, brake and clutch cylinder position and various other industrial applications. The accuracy of the device is enhanced via programmability on the analog output pin for end-of-line optimization without the added complexity and cost of a fully programmable device. The A1359 features One-Time-Programming (OTP), using non-volatile memory, to optimize device sensitivity and the quiescent output voltage (QVO) and Duty Cycle (output with no magnetic field) for a given application or circuit. It also allows for optimized performance over temperature through programming the temperature coefficient for both sensitivity and QVO/DC at the end of line test.
The A1359LLETR-T is available in a TSSOP-08 (suffix LE) surface mount package.