Allegro MicroSystems, Inc. Announces a New Automotive Two Channel Linear LED Driver IC
March 12, 2013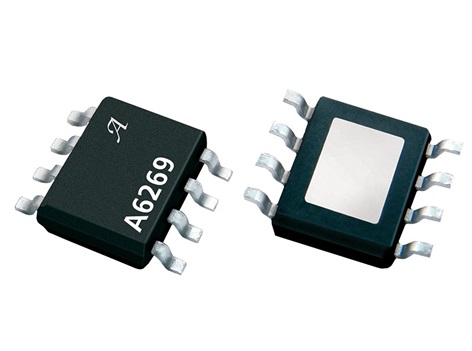 Allegro MicroSystems, Inc. Announces a New Automotive Two Channel Linear LED Driver IC
March 12, 2013
Designed for Automotive Interior Lighting Applications
Worcester, MA – Allegro MicroSystems, Inc. announces the addition of a new LED driver IC to complement their existing automotive qualified LED driver IC portfolio. Allegro's A6269 is a linear, programmable current regulator providing up to 200 mA from each of two outputs to drive arrays of high brightness LEDs. This device is designed for the automotive market with end interior lighting applications to include: map and dome lighting, glove box, vanity mirror, door (puddle lamp) and trunk lights.
The regulated LED current from each output is set by a single reference resistor. Current matching in each string is achieved without the need of any ballast resistors. Dual control pins are available for both switch (on/off) and master control (on/off/dim up/dim down) signals. It is capable of driving 2 LED strings at up to 200 mA each. Outputs can be connected in parallel or left unused as required. Short detection is provided to protect the LEDs and the device during a short-to-ground at any LED output pin. The output will automatically resume the regulated current when the short is removed. A temperature monitor is included to reduce the LED drive current if the chip temperature exceeds an adjustable thermal threshold.
The A6269KLJTR-T is available in an 8-pin narrow SOIC package with exposed pad for enhanced thermal performance.