Allegro MicroSystems Announces Second Generation Automotive Three-Phase Isolator MOSFET Driver IC
February 14, 2017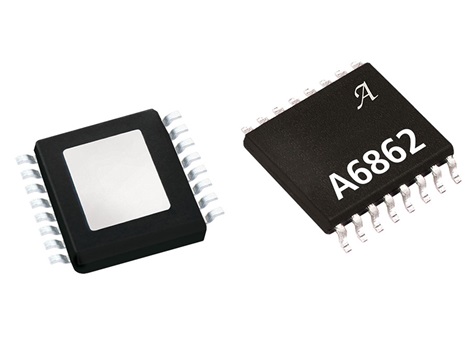 Allegro MicroSystems Announces Second Generation Automotive Three-Phase Isolator MOSFET Driver IC
February 14, 2017
Designed to Replace Mechanical Relays and Discrete Driver Circuits
Allegro MicroSystems, LLC introduces a new N-Channel power MOSFET driver capable of isolating a three phase load by controlling the in-phase isolation MOSFETS.
Allegro's A6862 motor driver IC is intended for automotive systems that must meet Automotive Safety Integrity Level (ASIL) requirements. This new device was designed for EPS (Electronic Power Steering) systems, electric braking, and three-phase relay driver applications and is supplied with detailed safety documentation.
In safety critical applications motor isolation is an essential requirement which is currently addressed with discrete circuitry or relays in most competitive solutions.The A6862 was developed in accordance with ISO 26262:2011 as a hardware safety element out of context with ASIL-D capability (pending assessment) for use in automotive safety-related systems when integrated and used in the manner prescribed in the applicable safety manual and datasheet. Our A6862 three-phase isolation driver is intended to replace a relay driven motor disconnect in automotive safety critical systems. It also provides the drive for reverse battery protection and battery isolation.

The A6862 has three independent floating gate drive outputs to maintain the power MOSFETs in the on state, or the off state, over the full supply range in the presence of high phase-voltage slew rates. This new generation offers the addition of a single input control, two independent activation inputs to put the A6862 into a low power sleep mode, and added gate to source protection to further assist end users to achieve critical system safety goals.

The A6862KLPTR-T is available in a 16-lead TSSOP package (suffix LP) with an exposed pad for enhanced thermal performance. Please contact your local Allegro sales representative for an A6862 demonstration board to speed up your IC evaluation.