Sensor Bias Solutions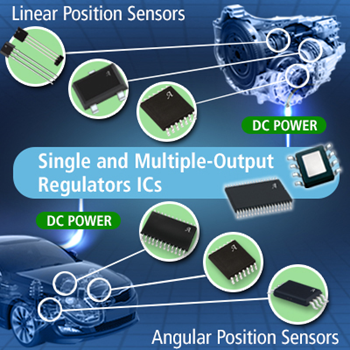 DC/DC Regulator and Sensor ICs are among the fastest growing segments of automotive semiconductors. Allegro offers a variety of high-performance sensor ICs such as Current Sensors, Magnetic Digital Position Sensors, Magnetic Linear and Angular Position Sensors, and Magnetic Speed Sensors.
Sensors often need a DC/DC regulator to convert an automobile battery voltage to an appropriate level, typically 5VDC. Allegro offers a growing portfolio of Sensor Bias LDOs that provide a highly regulated power supply voltage to these sensors, in particular Magnetic Linear and Angular Position Sensor ICs. Of note are the A4480 and A4481, each providing 5V output and holding a 40V input rating for automotive load dump requirements. These devices are ideal for powering sensors or low power uController ICs.
The A4481 is an LDO which integrated protection for both short to ground and short to battery – a key attribute when powering loads across a wire harness. The A4480 is unique based on its topology of a charge-pump followed by an LDO. This enables 5V output even when the input/battery voltage dips as low as 3.5V. This is critical during deep cold crank or idle stop, to keep the sensor or uController alive without causing a reset.
Allegro's LDOs in the Single-Output Regulators Portfolio
In addition to single-output regulators, Allegro has a wide portfolio of Multi-output DC-DC regulators (PMICs, or SBCs) that integrate a combination of linear as well as switching DC-DC regulators in a single IC. The regulated output voltage off the LDOs in these multi-output regulators can also be used to power a variety of sensor ICs. Many of these PMICs are developed for ISO 26262 / A2SIL applications.