New Automotive Grade Current Sensor IC Improves Safety and Efficiency, Reduces BOM
4月 09, 2019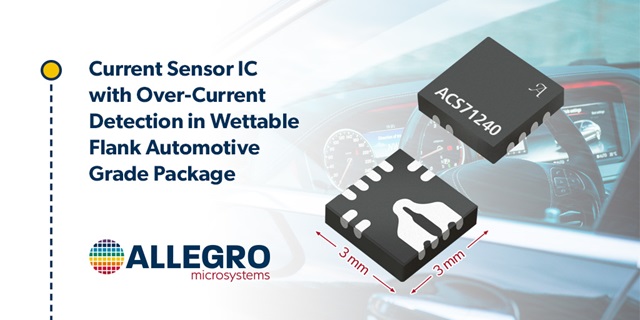 New Automotive Grade Current Sensor IC Improves Safety and Efficiency, Reduces BOM
4月 09, 2019
Ideal for electric vehicle chargers, DC/DC converters, and industrial motor and IoT applications
Allegro MicroSystems, a global leader in power and sensing solutions for motion control and energy efficient systems, is pleased to offer a new family of automotive AEC-Q100 qualified, monolithic Hall effect current sensor ICs. Small and energy efficient, the ACS71240 family is ideal for electric vehicle chargers, DC/DC converters, as well as industrial motor and IOT applications.
These new devices offer next generation improvements over the popular Allegro ACS711 predecessor, including:
Output signal immunity to stray magnetic fields (created by adjacent motors or current carrying wires);
Improved output signal accuracy (<+/-1.5% typical);
Output signal immunity to noisy supply voltage rails.
The ACS71240 family also features an extremely fast, dedicated overcurrent fault output that has a typical response time of 1.5 us, improving system safety. This fault output provides a simple means of detecting short circuit events that will prevent damage to MOSFETs or IGBTs in inverter, motor and other switching power electronics applications.
"Allegro was the first company to introduce the Hall-based, flip-chip integrated current sensors that make it possible to have simple surface mount assembly, great SNR and low power losses, while using a small PCB area," explains Shaun Milano, Director of Allegro's Current Sensor Product Line. "This new family represents the evolution of these innovative products and offers our customers improved safety, reliability and efficiency."
The ACS71240 is offered in two very small form factor package options, each providing different levels of galvanic isolation. The tiny 3mm x 3mm, wettable flank QFN package can be used on voltage rails up to 120VDC and enables solder joint inspection required in zero PPM automotive applications. The standard footprint SOIC8 package is UL certified to 2400VRMS of isolation and offers a working voltage of 420VDC or 297VRMS.
The ACS71240 family is designed to replace shunt resistors, operational amplifiers, current transformers and voltage isolators in applications that require small form factor, monolithic sensor solutions. These fully integrated solutions reduce the overall cost of current sensing by eliminating discrete components that demand printed circuit board area. The sensors are offered for use on 5V or 3.3V power supplies.
Get the ACS71240 datasheet today for more details on device specification and operation.