Allegro MicroSystems, Inc. Announces New Automotive Grade Buck Regulators
4月 28, 2011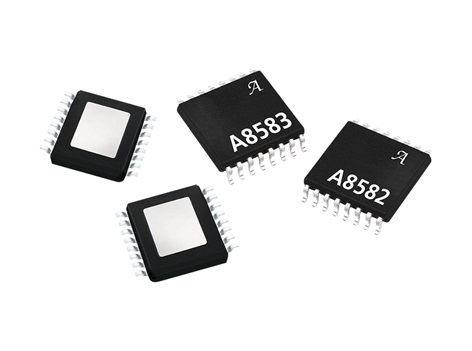 Allegro MicroSystems, Inc. Announces New Automotive Grade Buck Regulators
4月 28, 2011
Robust Buck Regulators with Wide Input Voltage Range
Worcester, MA - Allegro MicroSystems, Inc. announces two new robust automotive grade buck regulators with high switching frequency and output current, each integrating a low resistance, high-side, N-channel MOSFET. Allegro's
A8582
/
A8583
devices incorporate current-mode control to provide excellent loop stability and transient response. These new devices are targeted at the automotive, telecommunications and networking markets.
The A8582/83 devices utilize external compensation to accommodate a wide range of power components and optimize transient response without sacrificing stability. Both devices regulate input voltages from 4.7 V to 36 V down to output voltages as low as 0.8 V, and are able to supply load current of at least 2 A (A8582) or 3.5 A (A8583).
Protection features include VIN under voltage lockout (UVLO), cycle-by-cycle over current protection (OCP), hiccup mode short-circuit protection (HIC), over voltage protection (OVP), and thermal shutdown (TSD). In addition, the A8583 provides unique missing diode (D1) protection, open-circuit, adjacent pin short-circuit, and short-to-ground protection at every pin to satisfy the most demanding applications.
The A8582/A8583 devices are available in a 16-pin TSSOP package with exposed pad for enhanced thermal dissipation and are lead (PB) free with 100% matte tin plated lead frames.