Allegro MicroSystems Introduces New Multi-Output Automotive Power Management IC with Buck-Boost Pre-Regulator
4月 11, 2017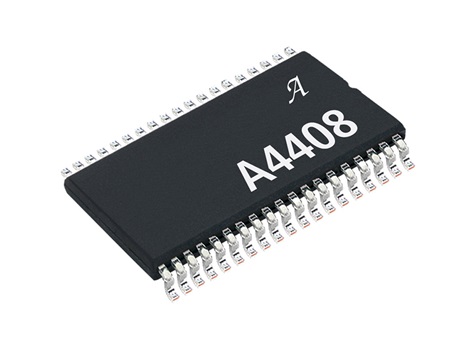 Allegro MicroSystems Introduces New Multi-Output Automotive Power Management IC with Buck-Boost Pre-Regulator
4月 11, 2017
Designed with a synchronous buck, three internal LDOs, watchdog timer, NPOR, and fault flags
Allegro MicroSystems, LLC introduces a new power management IC that uses a buck or buck-boost pre-regulator to efficiently convert automotive battery voltages into a tightly regulated intermediate voltage, complete with control, diagnostics, and protections. The output of Allegro's A4408 supplies a 5 V / 115 mA tracking/protected LDO, a 3.3 V / 165 mA LDO, a 5 V / 325 mA LDO, and an adjustable output synchronous buck regulator (1.25 V / 700 mA). The A4408 is ideal for under-hood applications, with key automotive applications including: Electronic Power Steering (EPS), Transmission Control Units (TCU), Advanced Braking Systems (ABS), Advanced Driver Assistance Systems (ADAS), Emissions Control Modules, and other automotive applications.

The A4408 contains a watchdog timer that can be programmed to accept a wide range of clock frequencies (WDADJ). The watchdog timer has a fixed activation delay to accommodate processor startup. The watchdog timer as an enable/disable pin (active low, WDENn) to facilitate initial factory programming or field reflash programming.

Diagnostic outputs from the A4408 include a power-on-reset output (NPOR). POK5V indicates the status of the 5 V and 5 V protected LDOs. Fault Flag 0 (FF0) and Fault Flag 1 (FF1) retain the last fault to reset the microcontroller. Dual bandgaps, one for regulation and one for fault checking, improve long-term reliability of the A4408.

Enable inputs to the A4408 include a logic-level (ENB) and two high-voltage (ENBAT1 and ENBAT2) inputs. The A4408 provides flexibility by including a TRACK pin to set the reference of the tracking regulator to either the 5 V or the 3.3 V output, so the A4408 can be adapted across multiple platforms with different sensor types. The MODE pin selects the NPOR undervoltage threshold for the V5 and V5P outputs.

Protection features include under- and overvoltage lockout on all four CPU supply rails. In case of a shorted output, all linear regulators feature foldback overcurrent protection. In addition, the V5P output is protected from a short-to-battery event. Both switching regulators include pulse-by-pulse current limit, hiccup mode short-circuit protection, LX short-circuit protection, missing asynchronous diode protection (VREG), and thermal shutdown.