Allegro MicroSystems, LLC Announces New Sensorless BLDC Controller
12月 16, 2014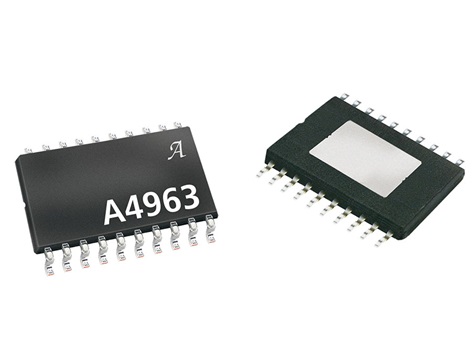 Allegro MicroSystems, LLC Announces New Sensorless BLDC Controller
12月 16, 2014
Save Design Time and Improve Reliability with our Flexible Solution
Worcester, MA – Allegro MicroSystems, LLC announces a new three-phase, sensorless, brushless DC (BLDC) motor controller for use with external complementary P-channel and N-channel power MOSFETs. Reliable sensorless startup and run commutation can quickly be customized for individual motors and loads with adjustment of a few simple default parameters saving considerable design time. The A4963 fits a wide range of applications since the output current requirements can be scaled up or down with external MOSFET selection and it has a wide DC supply voltage range of 4.2 V to 50 V. This new motor controller is targeted at the consumer, industrial and white goods markets with end applications to include: pumps, blowers, power and garden tools, hair dryers, portable mixers, and airborne drones.
The A4963 controls a motor using block commutation (trapezoidal drive) where phase commutation is determined, without the need for HALL position sensors, by monitoring the motor back- EMF (bemf). The sensorless start-up scheme allows the device to operate over a wide range of motor and load combinations including high or low inertial or friction loads. The A4963 can operate over a wide range of motor speeds, from less than 100 rpm to in excess of 30,000 rpm, depending on the supply voltage and motor capability. Several operational modes are available including closed loop speed control, duty-cycle (voltage) control, and current (torque limit) control. Operating mode and control parameters can be altered through an SPI compatible serial interface or through adjustable default settings preloaded into the on-chip EEPROM memory.
Motor operation is through a single line, low frequency, PWM duty cycle control input. An open drain output is provided to report motor commutation frequency (TACHO) or electrical cycle frequency. Startup (inrush) current and peak motor current are limited by an integrated fixed off time PWM current limiter. Integrated diagnostics provide indication of under voltage, over temperature, lost synchronization, and power bridge faults and can protect the power switches under most short circuit conditions. Faults are indicated by a single open drain output.
The A4963GLPTR-T is provided in a small, thermally enhanced 20-pin TSSOP with exposed thermal pad.