Single-Platform Design Can Reduce the Cost of Research and Development for Cordless Power Tools
June 30, 2022
Single-Platform Design Can Reduce the Cost of Research and Development for Cordless Power Tools
June 30, 2022
By Andy Wang, Product Line Director, Industrial Motors, Allegro MicroSystems

Broad Application of Power Tools Increases Product Development Costs and Timelines
Both homeowners and professional consumers have been migrating from AC-powered (corded) tools to DC battery-powered (cordless) tools, and manufacturers are continuing to migrate from DC to brushless DC (BLDC). With this migration has come the demand for more-reliable tools with greater mobility and longer runtimes, spawning significant industry R&D investment.
While these developments are exciting, the myriad new designs and R&D cycles that have resulted consume valuable resources and impact the bottom line. Manufacturers can reduce costs by using designs that leverage a single, common platform with a voltage range and gate driver capability for supporting the products in the portfolio.
From electric screwdrivers to hammer drills to chainsaws, the varied battery voltages and wattages required by the commercial and industrial application of these tools—for cutting, drilling, grinding, sanding, shaping, polishing, and more—pose a significant engineering challenge. For example, an electric drill may consume 400 W with battery voltage of 18 V, while a chainsaw may consume thousands of watts with battery voltage as high as 80 V.
Because requirements vary so greatly by both product and application, the component selections in each product design can vary just as widely. A typical approach for low-power products with low battery voltage is a system-on-a-chip (SoC), which provides the most optimized solution for size and cost. However, most SoCs do not have the strength to drive larger MOSFETs. Designers often use a discrete approach to drive these larger loads, such as a gate driver with a microcontroller unit (MCU). As the battery voltage increases, higher-rated components are required. When product designs call for different solutions, the resource strain impacts software engineering as well as hardware engineering. In the end, multiple solutions and platforms are typically developed, and each comes with more cost and resource demands.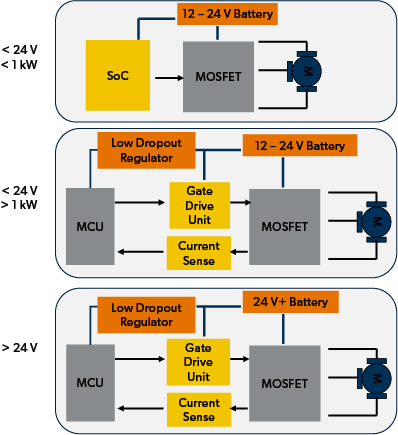 These application diagrams illustrate the cascading demands on gate drivers for power tools. An SoC may be able to accommodate a low-power device; however, increased design complexity is required for mid- and high-power devices, which may also call for differing MCUs. All these considerations add cost.
A Single-Platform Solution for All Applications Cuts Development Time and Costs
It's possible to mitigate the increased R&D expenditures, significant logistical challenges, and prolonged time to market that result from relying on platforms created using discrete components from multiple vendors. One approach is to have a common MCU with gate driver. Although it's possible to select a gate driver that has both the voltage range and gate drive capability to address all applications, it may not be practicable. Gate drivers with high voltage ranges typically come with higher costs, so there would be a margin penalty for applications with lower battery voltages. A better approach would be to use two pin-to-pin drop-in replacement gate drivers with different voltage ranges. Regardless of the voltage range, these gate drivers should have the gate drive strength to support both low- and high-power applications.
These gate drives could be used as interchangeable components in the platform, and designers could select the gate driver that meets the voltage range requirement. Using pin-to-pin gate drivers as drop-in replacements in an MCU-plus-gate driver architecture would create one platform that serves all product lines in a portfolio. This solution maximizes reuse of existing software and IP and reduces R&D time and logistical expenses.
Until the ideal single-chip solution for serving all power tools is realized, using discrete components as drop-in replacements for one another in a single-platform solution may be the best way to cut R&D costs while serving an entire power-tool product line. Because the packaging and pinouts of discrete components vary from vendor to vendor, finding interchangeable components would likely mean finding a single-vendor solution. Interchangeable gate drivers are available today from single vendors that, as a product family, serve the entire range of power tools.
The optimal approach over an MCU-based approach would be to develop power-tool product lines using an SoC. This architecture would help to reduce PCB size by eliminating external components, which would free up space that could be used for a larger battery or to help reduce the tool's size, reducing the overall carbon footprint. The SoC solution would also provide greater reliability, simplify logistics, and reduce costs.
Change is Inevitable—Prepare Now
As the industry anticipates sensor-less solutions and the Internet of Things, the power tools of tomorrow will present new demands. The current solutions used in the platforms of today's BLDC power tools will not have the capability to support many of the features of tomorrow. Somewhere down the road, many of the development platforms of today will need to be revamped to accommodate emerging capabilities. This means the inevitable expense of redeveloping power-tool platforms is approaching.
Power-tool developers would benefit today from designing their products using a single platform. One approach to a phased migration might be to start with an MCU-plus-interchangeable gate driver architecture, then to switch to an SoC architecture as new solutions emerge. By planning now for a phased redesign to a single-platform solution that has the adaptability to support the current and anticipated power-tool needs, the future burden on R&D could be greatly reduced and product lines will be poised for rapid market penetration when new capabilities arise.
Switching to a single-platform solution is a big decision. Yet, in a future where the capability exists, it's easy to imagine that everyone will use an SoC-based approach that meets the needs of their power-tool portfolios. For an interim MCU-plus-gate driver approach, developers will need to find the right interchangeable gate drivers for the job. By considering the needs of your current and anticipated product lines alongside the discrete, interchangeable components of a single vendor, you may be able to see a clear path to the development of a single-platform solution and cascading savings. The most agile power-tool providers of tomorrow will likely be those who plan for, and begin migrating to, a single-platform solution today.
Discover solutions to rev up your own single-platform designs at go.allegromicro.com/powertools.
Originally published by EETimes, May 2022. Republished with permission.