Allegro MicroSystems, LLC announces new back-biased differential linear Hall sensor IC
April 24, 2018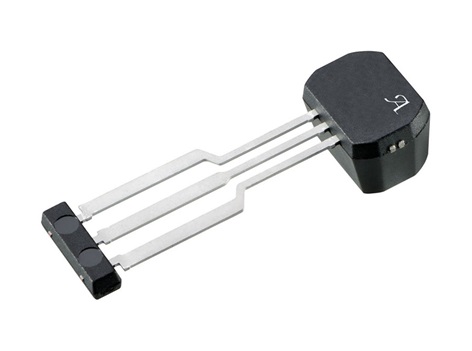 Allegro MicroSystems, LLC announces new back-biased differential linear Hall sensor IC
April 24, 2018
Integrated Magnet Included for Ease of Integration
Allegro MicroSystems, LLC introduces a new high precision, back-biased, programmable Hall-effect sensor IC. Allegro's ATS344 includes differential Hall elements and is packaged in a custom back-biased package that includes an integrated magnet. This new device incorporates a 2wire current mode PWM output in order to help minimize pin count for remote sensors. It also includes on-chip EEPROM technology, capable of supporting up to 100 read/write cycles, for flexible end-of-line programming of calibration parameters. The ATS344 is ideal for automotive applications requiring high resolution detection of long stroke (>5mm) linear motion.

The integrated back-bias magnet greatly simplifies packaging for the customer, requiring only a ferrous target to detect. The ATS344 is offered in a Pb free, 100% matte-tin leadframe plated 3-pin SP package.
Please click here to download a copy of the high-precision linear hall-effect sensor IC ATS344 datasheet.
About Allegro MicroSystems, Inc., (AMI)
AMI, a subsidiary of Sanken Electric Co., Ltd., is the owner of Polar Semiconductor, LLC, (Polar) a wafer fabrication facility in Bloomington, Minnesota (USA) and Allegro MicroSystems, LLC, (Allegro) a leader in developing high-performance power and sensing semiconductors. Allegro's innovative solutions serve high-growth applications within the automotive market, with additional focus on industrial and consumer/computing solutions. Allegro is headquartered in Manchester, New Hampshire (USA) with design, applications, and sales support centers located worldwide. For more information, please visit www.allegromicro.com.
#PressReleaseBoilerPlate { display:none; }