Latest LED Driver Family Eliminates PWM Audible Noise with Patented Control Method
April 17, 2019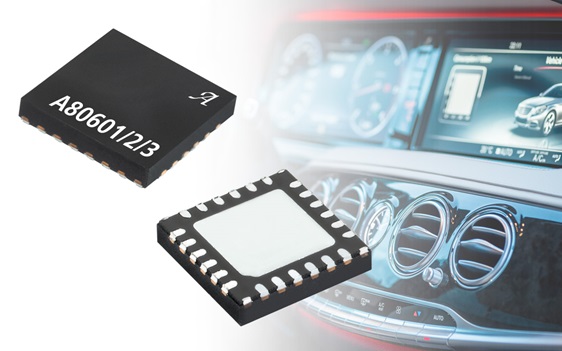 Latest LED Driver Family Eliminates PWM Audible Noise with Patented Control Method
April 17, 2019
Device family achieves ultra-wide true PWM dimming ratio, in small 4x4 packages
Allegro MicroSystems, a global leader in power and sensing solutions for motion control and energy efficient systems, today announced the A8060x family, their latest generation of advanced LED backlight drivers. The device family is designed with an innovative and patented Pre-Emptive Boost (PEB) control, eliminating noise that is typically audible.
PEB control in the A8060x family substantially reduces Vout ripple and eliminates the common problem of audible noise from ceramic output capacitors during PWM dimming, while also requiring less output capacitance overall. Systems can achieve an LED brightness contrast ratio of 15,000:1 using PWM-only dimming at 200 Hz. A higher ratio of 150,000:1 is possible when using a combination of PWM and analog dimming.
"This family of LED drivers alleviates significant customer pain points in the areas of audible noise and device footprint," explains Mark Gaboriault, Allegro's Marketing Director for DC/DC Regulators and LED Drivers. "The A8060x family offers excellent PMW dimming ratios without analog adjustment and eliminates noise that is emitted from ceramic capacitors, making them perfect for automotive applications."
The ALT80600 and A80603 combine a switching converter with integrated MOSFET and four current sinks, while the A80601 and A80602 drive an external boost FET for higher output power. All devices can be configured in a boost or SEPIC topology to cover a wide range of application configurations. The switching converters are designed for low EMI, including programmable switching frequency, controlled switching slew rate, and programmable dithering. Further, a clock-out pin allows other switching converters to be synchronized to the A8060x switching frequency for enhanced EMI performance of the overall system.
The A8060x device family is ideal for all types of automotive backlighting, including Audio-Video systems as well as instrument clusters and heads-up display (HUD). These devices offer a wide input range from single power supply from 4.5 to 40 V—once started, it can continue to operate down to 3.9 V. This allows the parts to withstand stop/start, cold crank, double battery and load dump conditions encountered in automotive systems.
The A8060x is a robust family with a host of safety and protection features required for automotive applications. The ALT80600 and A80603 feature four LED strings, each capable of up to 120 mA with total LED current of up to 480 mA. The A80601 and A80602 provide a total LED current of up to 840mA, via 4 or 6 strings respectively.
These devices are all available in a compact 4x4 QFN-24 wettable flank with exposed thermal pad (ES suffix), a smaller package than direct competition.
Learn more and download your copy of the AMT80600, A80601, A80602, and A80603 datasheets today.