Allegro MicroSystems, LLC Introduces New Automotive, Wide Input Voltage, Low Standby Current, 2 A Output Buck Regulator
May 13, 2014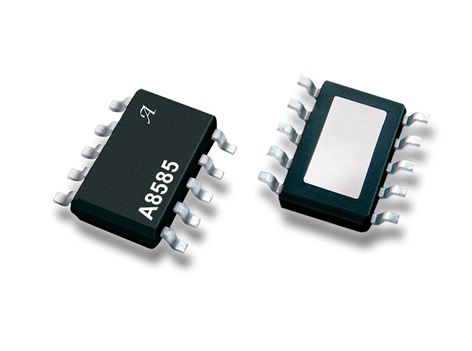 Allegro MicroSystems, LLC Introduces New Automotive, Wide Input Voltage, Low Standby Current, 2 A Output Buck Regulator
May 13, 2014
Low IQ, Enhanced EMI Performance with Reduced Pin Count
Worcester, MA – Allegro MicroSystems, LLC introduces a new automotive 2.0 A buck regulator that is designed to provide the low power supply requirements of next generation car audio and infotainment systems. Allegro's A8585 device is a high-efficiency converter targeted at the automotive and industrial markets with end applications to include automotive infotainment, instrumentation clusters, center stack applications and advanced driver assistance systems.
Allegro's A8585 device provides all the control and protection circuitry needed to produce a high current regulator with ±1.0% output voltage accuracy. In pulse width modulated (PWM) mode, the device employs current mode control to provide simple compensation, excellent stability, and fast transient response. In Low IQ mode, the A8585 employs pulse frequency modulation (PFM) to draw less than 33 μA from 12 VIN while supplying 5.0 V/40 μA. Once operational, the A8585 will operate down to at least 3.6 VIN (VIN falling). The transition from PWM to PFM mode can be controlled by the user or it can occur automatically.
The A8585KLKTR-T is available in a very small (4.9 mm x 6.0 mm), 10-lead SOIC package.