Allegro MicroSystems, LLC Announces Micropower LED Driver with Integrated Hall-Effect Switch
June 06, 2017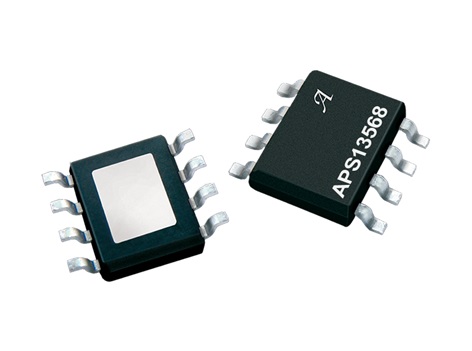 Allegro MicroSystems, LLC Announces Micropower LED Driver with Integrated Hall-Effect Switch
June 06, 2017
Elegant Single Chip Solution For LED Lighting
Allegro MicroSystems, LLC announces the release of a new micropower LED driver IC that features an integrated Hall-effect switch. The APS13568 enables compact, elegant, reliable, and fault-tolerant LED lighting with minimal electrical engineering and low component-count and cost. A single silicon chip integrates: a micropower regulator, a Hall plate, a small-signal amplifier, chopper stabilization, a Schmitt trigger, open drain Hall-Effect switch output, output polarity selection, and an LED driver with soft on/off and short circuit and thermal protection with automatic recovery. The integrated solid-state Hall-effect switch supports silent, sealed, contactless activation and offers a significant upgrade from failure-prone mechanical switches and provides very low standby current (< 50 μA).
The LED driver features low-noise, adjustable, linear drive of up to 150mA into one or more LEDs. An optional external capacitor programs the turn-on/turn-off rate, adding an elegant "theater" effect. It is controlled by the Hall-effect switch and turns on and off in response to a magnet. The Hall-effect switch is omnipolar (responsive to both North and South magnetic poles) and highly sensitive (BOP = 40G) to support a wide range of mechanical configurations and enclosures with various air-gaps and degrees of mechanical misalignment. The APS13568 features selectable output polarity as well as an open drain output for connecting to additional external circuitry.
This new device complements Allegro Microsystem's existing portfolios of
LED drivers
and Hall-effect switches by adding an external output and micropower operation (<50 μA). It is targeted at consumer electronics, white goods, boats, RVs, motorcycles, and interior and auxiliary automotive lighting applications such as glove boxes, center consoles, vanity mirrors, trunks/boots, truck beds, etc. The on-board micropower regulator permits operation with supply voltages of 7 V to 24 V while providing very low average supply current when the output is disabled. Reliability and EMC performance are enhanced with Zener clamps, output short-circuit protection, thermal shutdown, and reverse-battery protection. Superior Hall switch performance is made possible through dynamic offset cancellation, which reduces the residual offset voltage normally caused by device overmolding, temperature drift, and thermal stress.
The device is available in two versions: the "K" option is an automotive-grade (AEC-Q100) device that operates from -40 °C to +125 °C; the "E" option is for industrial and consumer applications that operate from -40 °C to 85 °C. Both versions feature a RoHS-compliant, thermally enhanced SOIC-8
surface-mount package
(designator "LJ").