Allegro MicroSystems, Inc. Announces New Multiple-Output Regulator for Automotive LCD Display Bias
May 01, 2012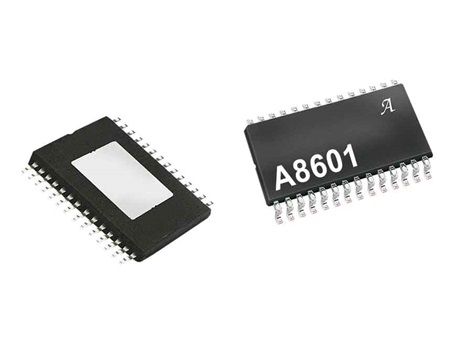 Allegro MicroSystems, Inc. Announces New Multiple-Output Regulator for Automotive LCD Display Bias
May 01, 2012
Designed Specifically for Automotive Infotainment Applications
Worcester, MA – Allegro MicroSystems, Inc. announces a fixed frequency, multiple-output supply for LCD display bias. The A8601 is Automotive Grade AEC Q-100 qualified and targets infotainment applications. It has a rich feature set that includes five regulated outputs from one low-voltage supply. The device was designed to address the need for a robust, automotive solution that uses fewer components than existing solutions, while providing higher efficiency power conversions.
Its switching frequency can be either programmed or synchronized with an external clock signal between 350 KHz and 2.25 MHz, to minimize interference with AM and FM radio bands. A total of up to five output voltages are provided, from three linear regulators and two charge-pump regulators. Each output voltage can be adjusted independently. During power-up and shutdown, the outputs are turned on/off in preprogrammed sequences, to meet the sequencing requirements for specific LCD panels.
The device is extremely robust under fault modes. Short circuit protection is provided for all outputs, the boost switch is protected against over-current and over-voltage, and input disconnect protection is achieved by driving an external P-MOSFET.
The A8601 is available in a 28-pin, eTSSOP package with an exposed thermal pad to allow for operation at high ambient temperatures.