Allegro MicroSystems, LLC Announces A New Dual Synchronous, Low Voltage Buck Regulator
April 15, 2014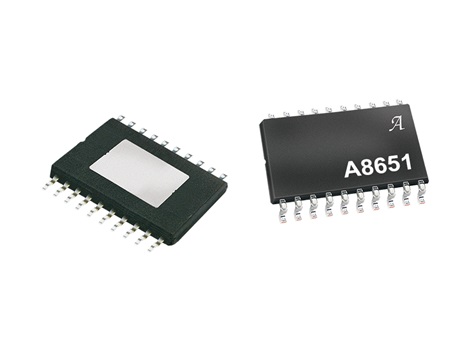 Allegro MicroSystems, LLC Announces A New Dual Synchronous, Low Voltage Buck Regulator
April 15, 2014
Flexibility with Robust Features
Worcester, MA – Allegro MicroSystems, LLC announces a new dual converter for multiple output systems. Allegro's AEC-Q100 qualified A8651 is a dual 2 A, low VIN, synchronous regulator with an adjustable frequency, integrated highside, P-channel MOSFET and a low-side, N-channel MOSFET. The A8651 incorporates current-mode control to provide simple compensation as well as excellent loop stability. The device utilizes external compensation to accommodate a wide range of power components to optimize for transient response without sacrificing stability.
The A8651 regulates input voltages from 2.5 V to 5.5 V, down to output voltages as low as 0.8 V and is able to supply up to 2 A of load current per regulator. This new device includes many robust protection features that are ideal for automotive requirements. It was designed specifically for automotive infotainment, GPS, telecom, networking and home/professional entertainment system applications.
Allegro's A8651KLPTR-T is available in a 20-lead eTSSOP (LP) package.