Allegro Microsystems, LLC Announces New Automotive Full Bridge Gate Driver IC with Fault and Independent Enable Functions
August 25, 2015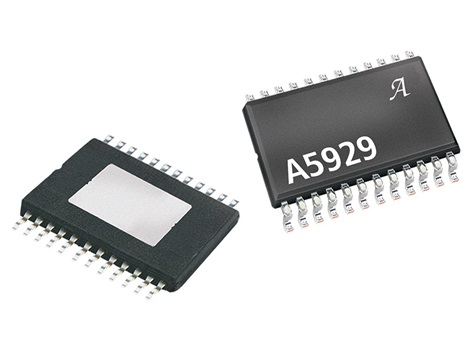 Allegro Microsystems, LLC Announces New Automotive Full Bridge Gate Driver IC with Fault and Independent Enable Functions
August 25, 2015
Designed for Use in Integrated Starter Generator (ISG) Applications
Worcester, MA – Allegro MicroSystems, LLC announces a new full-bridge controller for use with N-channel external power MOSFETs that has been specifically designed for automotive applications. Allegro's A5929 has a unique charge pump regulator that provides full (>10 V) gate drive at battery voltages down to 7 V and allows the device to operate with reduced gate drive at battery voltages down to 5.5 V. A bootstrap capacitor is used to provide the above battery supply voltage required for N-channel MOSFETs.
One logic level input is provided for each of the four power MOSFETs in the full-bridge, allowing motors to be driven with any PWM scheme defined by an external controller. The power MOSFETs are protected from cross-conduction by integrated crossover control. Motor phase short-to-supply and short-to-ground detection is provided by independent drain-source voltage monitors on each MOSFET. Short faults, supply under-voltage, and chip over-temperature conditions are indicated by a single open drain fault output.
The A5929KLPTR-T is supplied in a 24-pin TSSOP power pack­age with an exposed thermal pad (package type LP) for enhanced power dissipation. This package is available in lead (Pb) free versions, with 100% matte-tin lead frame plating (suffix –T).