Allegro MicroSystems, LLC Introduces Industry's First Automotive Integrated Buck LED Driver to Include Internally Generated PWM Dimming Capability
January 19, 2016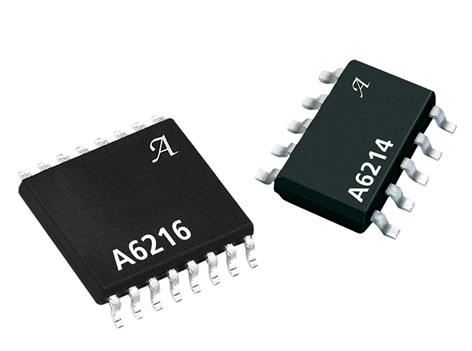 Allegro MicroSystems, LLC Introduces Industry's First Automotive Integrated Buck LED Driver to Include Internally Generated PWM Dimming Capability
January 19, 2016
Removes Need for Local Microcontroller or 555 for Dimming Control
Worcester, MA – Allegro MicroSystems, LLC announces two new single-IC switching regulators that provide constant-current output to drive high-power LEDs. Allegro's A6214 and A6216 devices integrate a high-side N-channel DMOS switch for DC-to-DC step-down (buck) conversion. A true average current is output using a cycle-by-cycle, controlled on-time method. Combined with automotive-grade quality and feature-rich functionality, a host of safety and robust protection features makes the A6214 and A6216 devices ideal for automotive lighting applications where high quality and reliability are highly desired and essential.
Internal 5 V, 10 mA LDO provides added flexibility and cost savings for driving external loads if required by the system. User-selectable output current provides system design and application flexibility, PWM as well as analog dimming capability provides precise LED current control, and automatic output voltage adjustment based on the number of LEDs in a single string ensures optimal system efficiency. LED dimming is accomplished by a direct logic input pulse-width-modulation (PWM) signal at the enable pin. Alternatively, an analog dimming input can be used to calibrate the LED current or implement thermal foldback in conjunction with an external NTC thermistor. (The A6216 has the added capability to generate its own PWM dimming frequency and duty cycle in stand-alone mode that provides LED light dimming control without the need of a microcontroller or 555 timer.)
Allegro's A6214 is provided in a compact 10-pin narrow SOIC package (suffix LK). The A6216 is available in a 16-pin TSSOP package (suffix LP), both with exposed pad for enhanced thermal dissipation. Both are lead (Pb) free, with 100% matte-tin leadframe plating.